A man known for his ability to make uncanny predictions with future innovations has said that he won't be putting money into bitcoin, stating that the digital currency won't be the replacement for fiat currencies.
Ray Kurzweil, Google's director of engineering, made these comments at the Exponential Finance Summit, a New York City technology conference that was hosted by Singularity University, a Silicon Valley think tank.
Speaking in front of 700 senior executives and technologists, Kurzweil explained his concerns regarding the most popular digital currency on the market. According to him, bitcoin lacks the stability needed that gives a currency added value, which makes people more likely to trust it and use it.
He said:
"Ultimately, people need to have confidence in their currency and bitcoin in particular has not really demonstrated that. It's had a good year, but a very rocky life before that."
Because of the currency's inability to remain stable he believes this undermines its value.
He adds:
"I wouldn't put my money into it."
Such comments are unlikely to go down well within the bitcoin community considering 2017 has proven to be a good year for it. On 11 June, it was reported that the digital currency had hit the $3,000 mark for the first time in its history after hovering between the $2,700 and $2,900 range the previous week.
Yet, while it finally reached a new all-time high, it didn't stay up for long, once again highlighting that the currency remains a volatile asset.
On 12 June, bitcoin's price dropped by around $300 in one hour from $2,980 to a low of $2,650, according to CoinDesk. The drop, however, was short-lived, with prices rebounding back to $2,900 30 minutes later on CoinDesk's Bitcoin Price Index (BPI).
This news further gives credence to Kurzweil's thinking and the fact that the digital currency still has a long way to go before it can shed its volatility despite the fact that it is up 200 percent in 2017.
Other Critics of Bitcoin
With Kurzweil's current thinking, he joins the ranks of fellow bitcoin critics such as Berkshire Hathaway chairman and CEO Warren Buffet who once claimed that the digital currency was 'a mirage,' and that people should stay away from it.
In a 2014 report from CNBC, Buffet is reported as saying that 'the idea that it has some huge intrinsic value is just a joke in my view.'
Jamie Dimon, CEO of JPMorgan Chase, has spoken out in the past and said that 'bitcoin is doomed.' In 2015, Dimon is reported to have said:
"It's just not going to happen … there is no government that is going to put up with it for long. It's kind of cute now, a lot of senators and congressmen will say 'I support Silicon Valley innovation,' but there will be no currency that gets around government controls."
More recently American billionaire and investor Mark Cuban took to Twitter to state that 'bitcoin is in a bubble,' after it achieved a record high of $2,900 on 6 June. This despite the fact that the digital currency is outperforming stock market benchmarks such as the S&P 500 and Nasdaq.
And yet, while bitcoin is continuing to make headway and is steadily increasing its price and market value, there will always be critics who will predict its downfall.
Blockchain Has More Potential Than Bitcoin
Of course, while Kurzweil remains weary on the cryptocurrency, he takes a keen interest in the currency's distributed ledger, the blockchain.
For him, this is where change is likely to take place stating that it could be implemented by national governments, but that more people need to have increased confidence in it first.
He said that the blockchain provides the transparency to change the way countries mint their fiat currencies.
He said:
"Providing greater transparency, and blockchain does provide that, could be something adopted by leading currencies like the existing national currencies."
Cuban also shares the view that it is the blockchain that will be more valuable in the future. One of his recent tweets reads:
"I think blockchain is very valuable and will be at the core of most transactions in the future. Healthcare, finance etc. all will use it."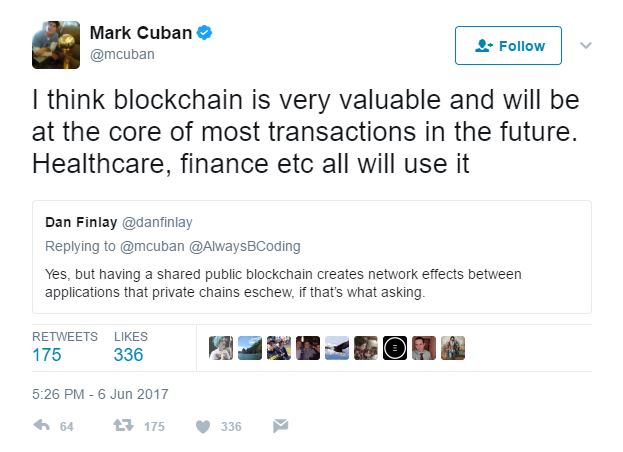 The Federal Reserve Bank has also spoken in the past about how the blockchain has more potential. The Minneapolis Fed president Neel Kashkari is reported as saying that the blockchain could be adopted in the future compared to the digital currency.
Presenting a speech at the MN High Tech Association 2017 Spring Conference in May, Kashkari, said:
"I think sentiment has shifted in the markets. I would say I think conventional wisdom now is that blockchain and the underlying technology is probably more interesting and has more potential than maybe bitcoin does by itself."
While the blockchain is still in the early stages of its development, it's interesting to see that so much interest is being placed on it and the future changes it can make to delivering a more efficient and tamper-proof system.
Recently, the Dubai government announced that they have signed a new agreement with ObjectTech, a U.K.-based blockchain startup, to create digital passports for entry at Dubai International Airport. It's hoped that by doing so, it will put an end to manual passport verification for seamless entry.
According to the agreement, ObjectTech will be working with Dubai's Immigration and Visas Department to develop the world's first 'gate-less border,' as it combines the abilities of biometric verification and the immutability of the blockchain technology.
This is just one example of how bitcoin's distributed ledger is being employed in innovative ways that may not has seemed possible before.
Whether the blockchain will be adopted more in the future remains to be seen; however, bitcoin also remains a valuable source for people, particularly those who are disenfranchised and without access to traditional banking services.
While the digital currency may still be a volatile asset, it is a popular currency that many people are investing in. Its price will invariably go up just as it will also go down as different factors impact its price. Even though critics will remain, bitcoin continues to achieve new heights as it works at becoming the next big currency.
Featured image from Flickr via YEKRA_Stills2.