NFL Betting With Bitcoin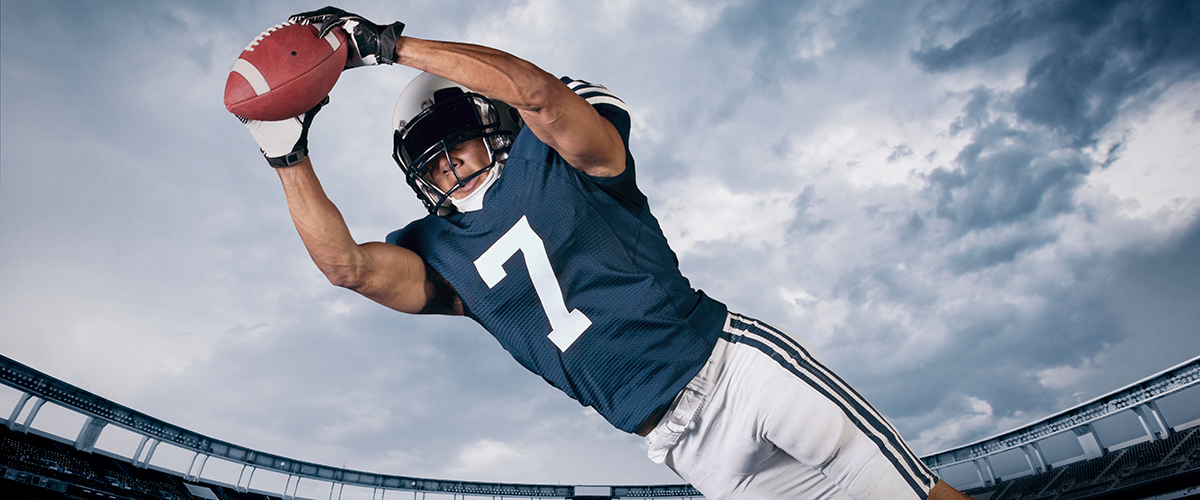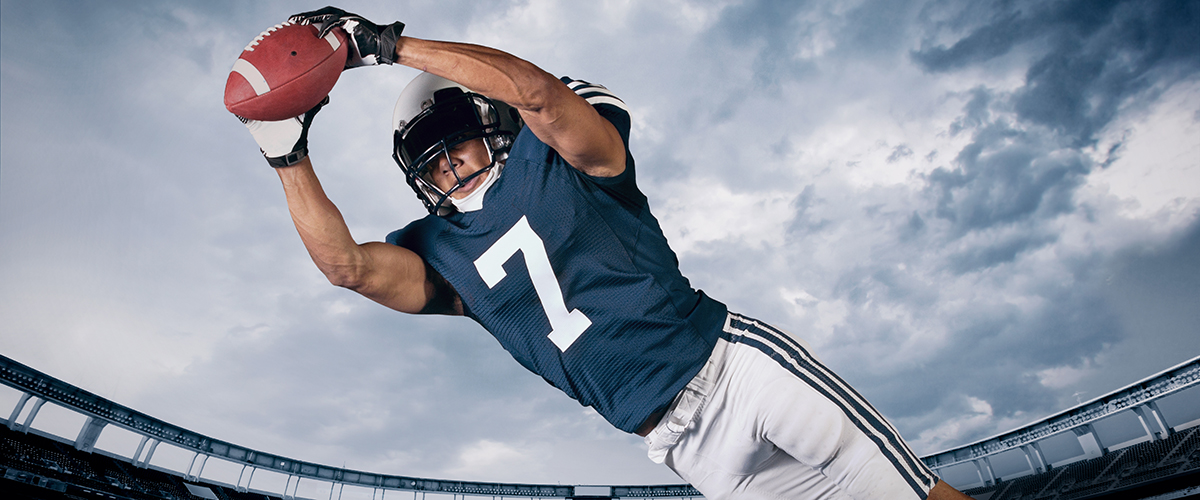 The National Football League, or NFL, is the highest level of American football in the world. Watched by millions around the globe, the NFL is the dream of every aspiring young American athlete. Formed back in 1920, the NFL has gone from strength to strength and is now more popular than ever.
In most other sports, the real measure of a team's quality is tested over the course of a season, usually by collecting points for each match won. In the NFL, things happen a little differently. The league begins in a fairly traditional way, with 32 teams competing one-on-one. The teams are split into two conferences – the National Football Conference (NFC) and American Football Conference (AFC), each contributing 16 teams to the league.
However, while most leagues play out a full season based on the points acquired, the NFL switches things up after a few months. The season starts in September and continues through to December. At this point, it moves into a knockout stage.
Of the 16 teams from each conference, only six will progress to the knockout stage, or the playoffs. These teams are seeded, so the top two seeds will only enter in the second round, by which time two teams will have already been eliminated. The final four teams play two more games until only one team is left from each conference. These two then play one final called the Super Bowl, which is the showpiece of the entire year in the NFL.
If that sounds a little complicated, don't worry. You can learn all about it right here, including how to beat the bookies with a winning NFL betting strategy and where to place your Bitcoin bets on America's most popular sport.
How to Bet on NFL With Bitcoin
If you've ever seen a jam-packed house on Super Bowl Sunday, you'll know there are plenty of chips and dips going around. But it may be time to add "bits" to that too, as NFL Bitcoin betting has seen a sharp increase in recent years. And there's no event that attracts more crypto bets than the Super Bowl.
As many people will be aware, gambling laws in the US are a little stricter than they are in a lot of countries around Europe. Betting on sports is a bit of a grey area in the US, although it is legal to place bets in certain states and online. Using Bitcoin (BTC) to place a bet on the NFL is a logical step in a country where brick-and-mortar bookmakers are rare.
So which sportsbook offers the best Bitcoin betting opportunities? As with any sportsbook, the answer largely comes down to personal preference. For instance, do you often take advantage of introductory offers or welcome bonuses? If so, this deserves extra consideration when looking at a Bitcoin sportsbook because the fluctuation of the cryptocurrency means the bonuses can be monumental. For instance, a sportsbook might offer you a sign-up bonus of 1BTC if you create a new account and place a bet on the NFL. However, the next day the value of that 1BTC may have doubled, tripled, or in some instances increased even more. Before the sportsbook has a chance to catch up and rework the offer to a more reasonable fee, players can take advantage and get a whole bunch of free chips to play with.
However, some people prefer to avoid welcome bonuses due to the wagering requirements attached to them. If this is the case, you may prioritise other factors in a sportsbook. When placing a bet with Bitcoin, it is extra important to consider security. BTC affords a great deal of anonymity – so if a scammer gets hold of your crypto coins, there's not much you can do to reclaim them.
If you sign up to a Bitcoin sportsbook, make sure it's a trusted company that takes security seriously. This can often mean 2-factor authentication (2FA), which helps add another layer of protection to your account with an ever-changing, randomly generated password.
Just because you're betting with BTC and not USD, it doesn't mean you should miss out on any perks. Good quality sportsbooks will still offer a VIP scheme even when placing a bet with Bitcoin, Ether (ETH), Litecoin (LTC) or any other major cryptocurrency. There may also be vastly different processes when it comes to deposits and withdrawals, so check out the policies before you go making any transfers on the blockchain.
There are multiple factors that go into sourcing the best Bitcoin sportsbooks that cover NFL betting, and we've handpicked five of the finest here:
Top 5 Bitcoin Sportsbooks for NFL Betting
Exclusive offer:
100% Welcome Bonus

Up To 5BTC
sign up now
Biggest deposit bonus in the BTC sports betting world
Highest betting limits of any Bitcoin sportsbook
Fast cashouts – withdrawals are processed instantly
Offers more betting markets than most other books
Biggest Events in NFL
Without a doubt, the biggest event in the NFL is the Super Bowl. It takes place once a year, and has done so ever since its inception in 1967. The Pittsburgh Steelers have been the most successful team in terms of winning the Super Bowl, racking up six championship titles to date. Meanwhile, the New England Patriots have appeared in ten Super Bowls in total. Each winner receives a ring which has itself become a cult status symbol in the sport, akin to the Master green jacket in golf.
The Super Bowl usually takes place in the first week of February, and is informally referred to as Super Bowl Sunday. Fans certainly make a celebration of it, with statistics showing that more food is consumed on Super Bowl Sunday than any other day in the US, with the exception of Thanksgiving.
So just how big is the Super Bowl? Numbers don't lie, and the numbers for the Super Bowl viewing figures are quite remarkable. The first Super Bowl attracted an impressive 51 million viewers, averaging around half of that throughout the event. From 2011 to 2018, the total number of viewers has remained between 162 million and 172 million, with the average maintained above the 100 million mark throughout.
Looking at the wider context of US television viewing, the Super Bowl events blitz all competition. A list of the top 20 most watched television broadcasts in the US is dominated by the Super Bowl, which accounts for 19 of the 20 slots. The other, for those of you who are curious, is the M*A*S*H finale – which drew in 105.9 million viewers.
Despite being the most important game of the year, the Super Bowl is not just about the sport. Arguably, the half-time show has become just as famous as the main fixture itself. It is a chance for the world's best and brightest to showcase their talents to an enormous audience under immense pressure, and many superstars have taken on the challenge.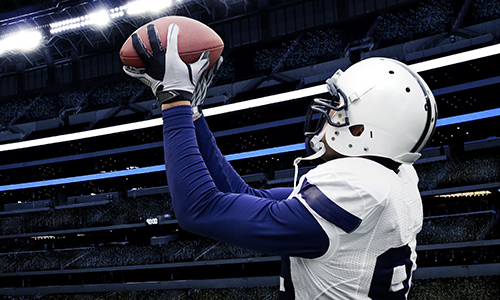 Illustrious names in music including the King of Pop Michael Jackson, Paul McCartney, Beyoncé and Prince have all performed at the Super Bowl half-time show. Justin Timberlake performed alongside Janet Jackson when the infamous wardrobe malfunction took place.
Even more remarkably, the artists are not paid to perform by the NFL. The coverage they receive is seen as payment enough, and has been shown to boost album and ticket sales. Taking things one step further, pop star Katy Perry even claimed she was asked to pay to perform at the event. Bold stuff from the NFL.
Having a major draw that isn't technically part of the sport is nothing new in the NFL, though. For instance, one major event that takes place each year off the field is the National Football League Draft, or Player Selection Meeting. NFL teams take turns to draft the best college football players for the new season. Tickets are free on a first-come, first-served basis, with the event also televised across the US and considered essential viewing by fans.
---
Most Popular Bets on NFL
People love to watch the NFL, and they also love to spice things up with a few bets – be that with Bitcoin or otherwise. Much like basketball, a lot of the most popular NFL bets are fairly straightforward. Here are a few of the most common ones, along with an explanation of exactly what they mean to the bettor.
Money line – Regularly used by amateurs and pros alike, the money line is about as straightforward as they come. All you have to do is pick the winning team, and the cash reward will soon be yours. Of course, because the bet is so simple and sometimes quite obvious, the odds can be quite poor. This is especially true when betting on the favourite or the home team, or often both. However, if you back an underdog and they emerge with an upset, the money line bet can pay off handsomely.
Handicap – The money line is a popular bet through its simplicity. However, if you believe in the favourite but don't want to bet a lot of money, it might not be very exciting. For instance, betting $10 to return $10.50 might not offer a lot of incentive, especially to casual bettors who are looking for more excitement. With this in mind, the handicap bet may be a bit more appropriate. With the handicap bet, you can bet on a team winning with an imagined surplus or deficit. So, you may place a bet on Team A beginning with a -8 score and still managing to beat Team B.
Totals – If you like goals, goals, goals and don't care where they come from, the totals market is a smart choice. All you need to do is bet on whether the combined score of both teams will be above or below a certain number. It's another simple concept, sometimes also referred to as the under/over market.
---
Did You Know?
Only two teams have ever won the Super Bowl in three different decades: Green Bay and the New York Giants.
In order to gather enough leather for a year's supply of NFL balls, it takes a lot of cows – 3,000, to be exact.
The Buffalo Bills had a tough time at several Super Bowls in the 1990s. They lost four in four years.
---
NFL Betting Strategy
Spread betting plays a large role in any decent NFL betting strategy. This involves considering a whole spectrum of factors to decipher not only which team is likely to win a game, but also by how much. Outside factors such as adverse weather, injuries to key players, or the location of the stadium can all have an impact on the overall scoreline.
Frequent bettors often go one step further and develop helpful systems, sometimes called power ranking systems. These take into consideration the aforementioned aspects, plus the odds being offered by the sportsbook, to come up with advantageous betting opportunities. The key to such a system is to find trusted information and statistics, and have a sound knowledge of the game over a prolonged period.
There is more to NFL betting than just the score, of course. Another major aspect to bet on is the number of yards covered, which can be the average obtained over the course of a match for either the offensive or the defensive teams. Of course, this is somewhat linked to the winner of the match – the team that allows the most yards is not as likely to emerge victorious.
After placing a few bets on NFL games, you may begin to notice a pattern in the winning margins. In fact, 30% of all NFL games involve a winning margin of either three or seven points. With this in mind, the -6.5, -2.5, +3.5 and +7.5 handicaps are well worth considering. Combined with a solid power rankings system, this gives fans the making of a promising recipe for success.
---
Verdict
There's a reason the NFL is one of the most popular leagues in any sport worldwide. Action-packed scenes with fast-paced interchanges, plus a whole lot of fanfare and some A-list celebrities performing mean there's plenty to love about the sport. And whenever a sport becomes as popular as the NFL, the betting markets naturally pick up as well.
In the last few years, there have been more and more sportsbooks offering Bitcoin betting options on the NFL – meaning plenty of opportunities to make money with some smart betting strategy.
There are lots of advantages to betting on the NFL with Bitcoin:
Sign up with the #1 Bitcoin sportsbook for Horse Racing
Bet anonymously and exclusively online – ideal for a US audience
Easy to place a bet, then watch the game – being one of the most popular sports worldwide
Execute betting strategy to maximise profits
Visit site