The popularity of initial coin offerings (ICOs) has taken off to such an extent that ethereum's co-founder has said that there is now 'an over-tokenisation of things.'
Speaking in an interview Charles Hoskinson, who helped to create the ethereum network, said:
"People say ICOs are great for ethereum because, look at the price, but it's a ticking time-bomb. There's an over-tokenisation of things as companies are issuing tokens when the same tasks can be achieved with existing blockchains. People are blinded by fast and easy money."
According to a report from financial research firm Autonomous NEXT, in the first six months of 2017 more than $1.2 billion in digital currency was raised through ICOs, outpacing venture capital investment in blockchain and bitcoin companies. Furthermore, in the last 30 days around $600 million has been raised. Of the ICOs by category, media and social has raked in just under $150 million in 2017 while gaming and gambling has raised less than $80 million.
Since the start of the year, the digital currency ether has jumped in value from $8 to around $400 in June. As of the 19th July, ether has dropped in value and is currently trading at $224, according to CoinMarketCap. As a result, its total market value has seen a decline bringing it down to just under $21 billion.
Hoskinson, who was part of the ethereum network between 2013 and 2014 and now runs technology research firm IOHK, is adding his voice to a growing number of individuals who are concerned about the way ICOs are increasing at a rapid pace, which is delivering a surge in prices.
Taking to Twitter, UASF BitNovosti.com, said:
"This bubble is a much more about ICOs than cryptocurrencies. And ICOs definitely can (and many will, no doubt) go broke."
However, the rise and fall in ether prices is not just down to the increasing number of ICOs on the market. Other factors have also contributed to the shift in market prices.
Parity Wallet Theft
In latest developments with ether, its price has dropped by 10 percent as of the 20th July to $211.
The reason this is is alleged to be due to a security breach at smart coding company Parity. According to news reports, the company reported the theft of 150,000 ether, worth $30 million. Listing the situation as critical on the organisation's blog users have been urged to move 'assets contained in the multi-sig wallet to a secure address.'
Gavin Wood, Parity founder and CTO, said on the Gitter web channel that there had been three accounts there were compromised:
"There is an effort by the foundation underway to secure funds in other wallets to prevent any further compromises; they will make an announcement in their own time."
This is the latest setback that the digital currency has experienced in a matter of days.
On the 17th July, it was reported that around $7 million had been stolen by a hacker during the CoinDash ICO. The hacker was able to do this after altering the contract address of the ICO project.
Fast-forward a few days and that number has been bumped up to $10 million as unsuspecting potential investors willingly hand over their money with 43,500 ether believed to have been sent to the fake address.
Vitalik Buterin Death Hoax
In late June, it was reported that ethereum's founder Vitalik Buterin had to employ the blockchain network in a bid to disprove his death.
In a report from CoinDesk, it's alleged that the death hoax came from an internet forum site – clicking on the web page brings up a '404 not found page' – stating that Buterin had died in a car crash. Following the rumours the founder of the second most popular digital currency no doubt wanted to quickly quash any further speculation.
He did this by announcing on social media that he was in fact alive including an ethereum block number and a hash that corresponded to it.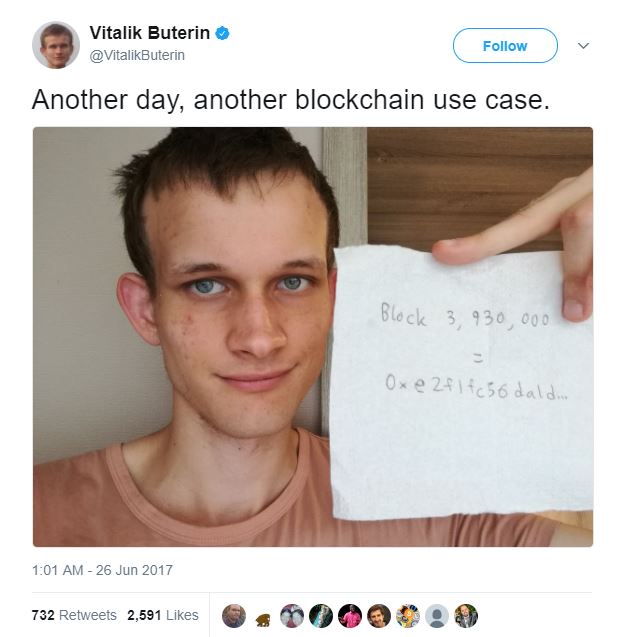 However, while Buterin may have put an end to the rumours that he had died, he wasn't able to prevent the price of ether from dropping below $300.
Bitcoin Split?
Another factor that is creating price waves within the cryptocurrency market is the talk that there could be a bitcoin split if a solution isn't finally agreed upon to solve its scaling issues.
On the 15th July, the digital market saw its total value drop below $70 billion for the first time while the price of bitcoin suffered a 49-day low when it dropped below $2,000. The following day, ether prices fell by 22 percent to $159, a 60 percent decline from its record high in June.
And yet while early signalling support has started for BIP91 which would prevent a coin split in the bitcoin blockchain network, and prices have risen, there is still some concern as to what will happen come the 1st August.
ICO Regulation?
Hoskinson thinks, though, that when it comes down to it regulation is the biggest challenge to the market and that the Securities and Exchange Commission (SEC) will, essentially, label digital currencies as securities. He says that because digital ICOs don't come with the risk safeguards that traditional security sales provide, future lawsuits could present themselves with investors claiming that they weren't aware of the risks involved.
Regardless of this, however, he still believes that ICOs will continue to be used:
"Regardless of regulation ICOs are here to stay. After it collapses they're going to pick up the pieces and say how do we do things differently."
The digital market is certainly going through an interesting readjustment phase. How long it will last remains to be seen. Yet, with more ICOs being reported on frequently it's clear that they provide the ideal avenue to raise funds for many companies.
Just as bitcoin's price has risen and fallen during its history, so too will ether's price. Of course, while bitcoin has store value and can be utilised for goods and services, ether isn't. With the 1st August looming ever closer, a resolution to bitcoin's scaling issues may finally help its price, which in turn may help to bump the price of ether back up as well.
Featured image from Flickr via tiendientu vietnam.