The number of digital currencies that have exceeded a market value of $1 billion is 10 with values ranging from $1.3 billion to $70 billion.
The top 10 cryptocurrencies with market values exceeding $1 billion include bitcoin, ethereum, ripple, bitcoin cash, IOTA, litecoin, NEO, NEM, dash and ethereum classic.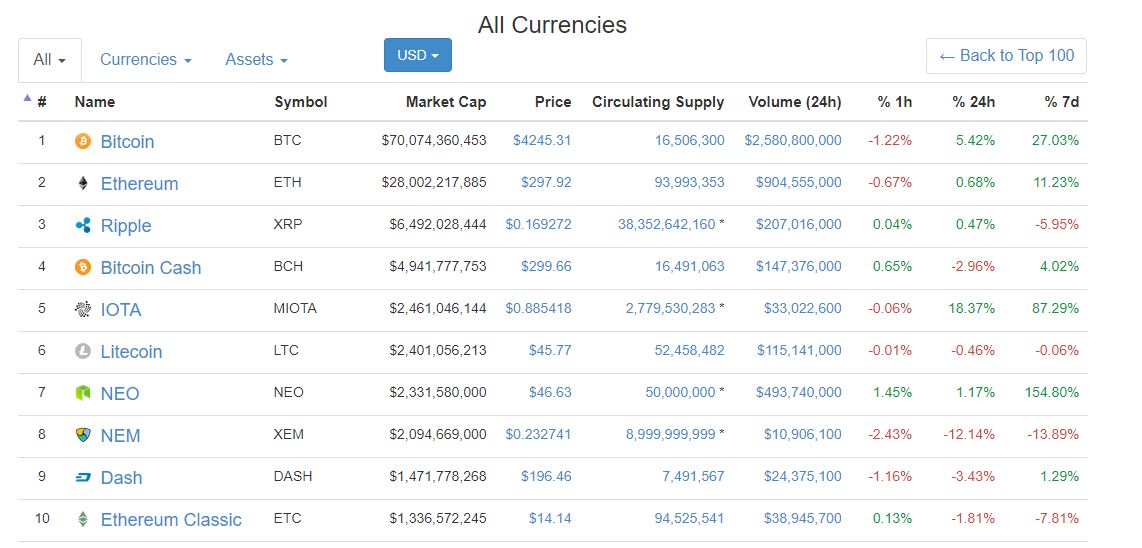 Bitcoin, the Number One Ranking Currency
In first place is bitcoin with a market value amounting to $70 billion. At press time, it is trading at $4,245, which has seen a 5.42 percent rise over the past 24 hours and a 27.03 percent increase in the last seven days.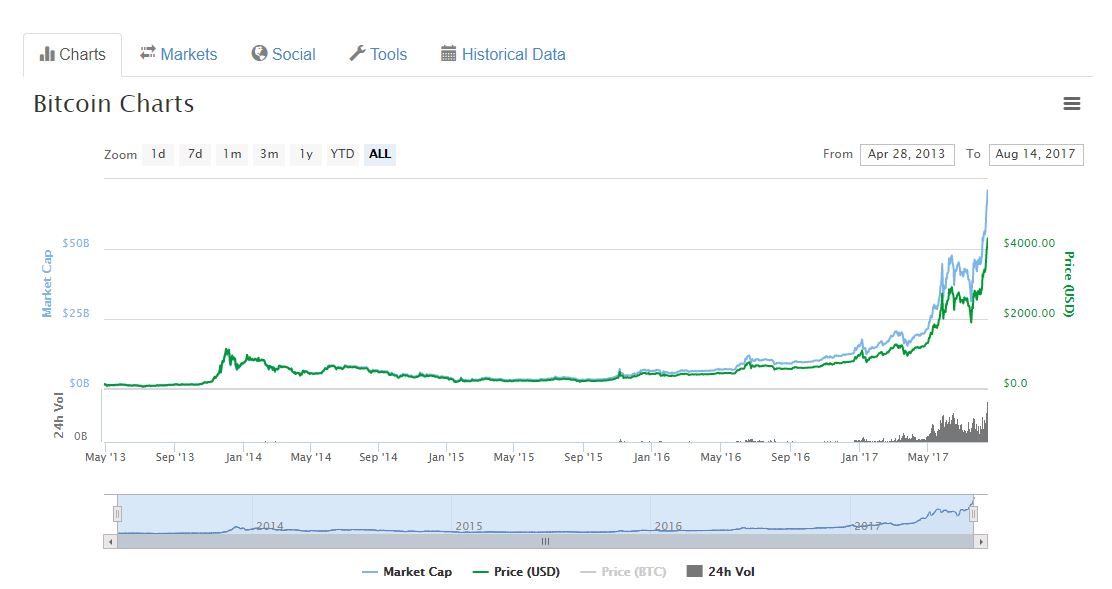 After recently scaling the $4,000 mark, there is still huge demand for the digital currency. This is despite the 1st August user activated hard fork, which saw the creation of bitcoin cash. It remains to be seen how far bitcoin can go, but many are predicting it can easily reach $5,000 and even higher.
Ethereum Drops Below $300
Second place ethereum had attained the $300 mark again after flirting with the price for some time last week. Now, it's trading at $297 with a 0.68 percent rise in 24 hours and 11.23 percent increase in seven days. Its market cap is worth $28 billion.
At one point, it looked as though ethereum may push bitcoin off the top spot as it steadily gained on the digital currency. Now, though, that doesn't look likely. The currency has come a significant way since the beginning of the year when it was trading at $8.24, according to CoinMarketCap.
Ronnie Moas, Standpoint Research founder, believes it can go much further. He's predicting that by 2018, ethereum's price will be listed at $400.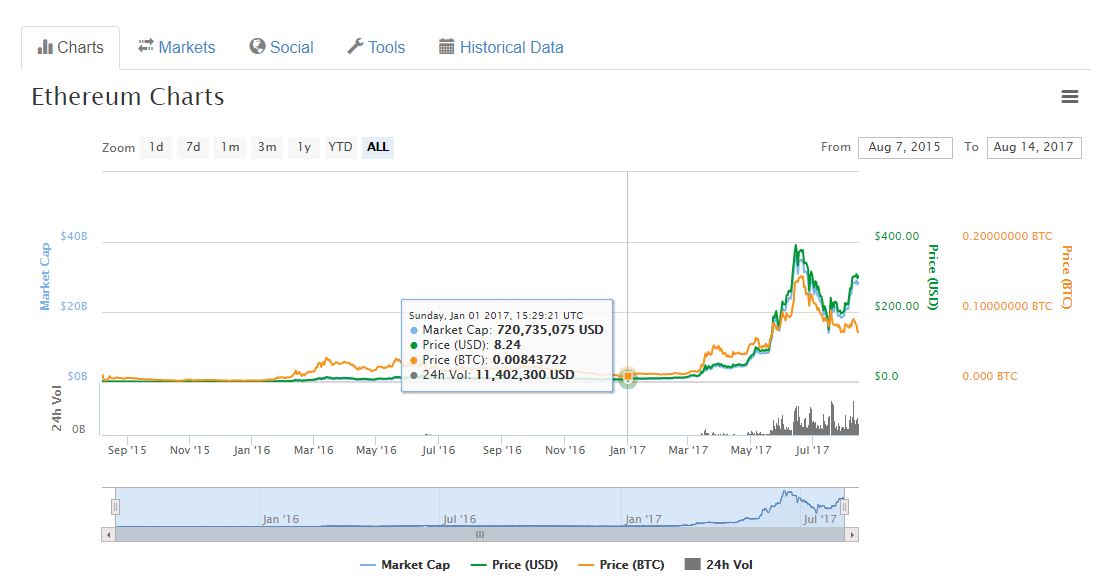 Ripple Maintains Third Place
At the beginning of August, Ripple has lost its third place position to newcomer bitcoin cash; however, it has since reclaimed the third ranking spot.
Currently trading at $0.169272, it has a market value amounting to $6.7 billion. Over 24 hours its value has increased by 0.47 percent, but within seven days it has dropped in price by -5.95 percent. The digital currency is doing well to maintain hold of third place, but for how long?
Newcomer Bitcoin Cash Falls into Fourth
Bitcoin cash is the newest digital currency to enter the market. It's also one that has entered the top 10 field so soon after its launch.
Created by supporters who wanted a solution to bitcoin's scaling issues, bitcoin cash has garnered support since it entered the scene on the 1st August.
At the time of publishing, it is trading at $299, which has seen a slight drop in value over 24 hours of -2.96 percent. Yet, it has increased by 4.02 percent in the past seven days. Ranking third when it first came on the scene, it had a market value of nearly $12 billion. Now, though, it's currently sitting at $4.9 billion.
At its peak, bitcoin cash was trading at $727 on the 2nd August. However, the chart below indicates a steady decline in price.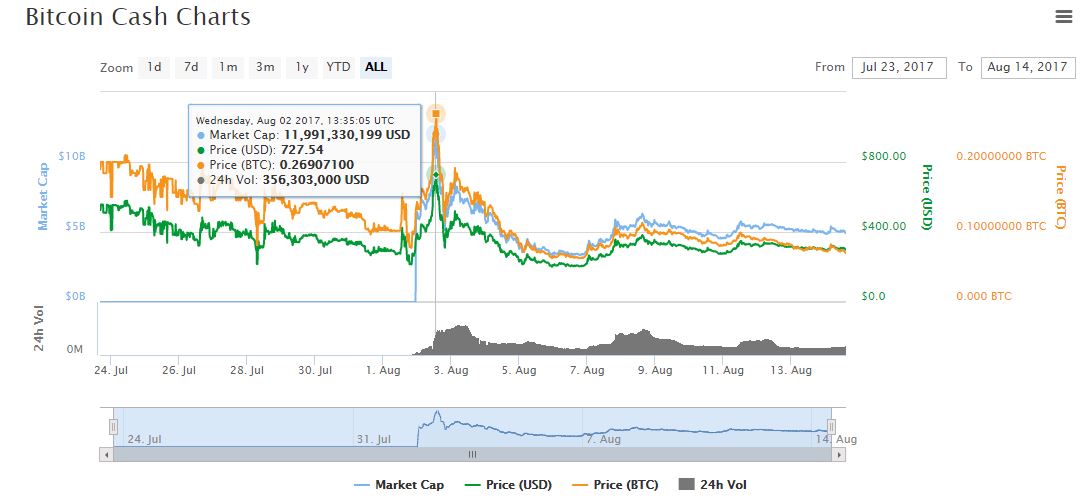 At its lowest, bitcoin cash was trading at $201 on the 5th August. After making it easier to find blocks for the digital currency its price peaked up slightly, but it has yet to see $700 figures again.
IOTA Grabs Fifth Place, Pushes Litecoin into Sixth
IOTA has shown some positive returns on its price in August. As such its price has steadily increased over the month. At the time of publishing, the digital currency is trading at $0.885418 and has seen an 18.37 percent in the past 24 hours. Over seven days, its value has increased by 87.29 percent.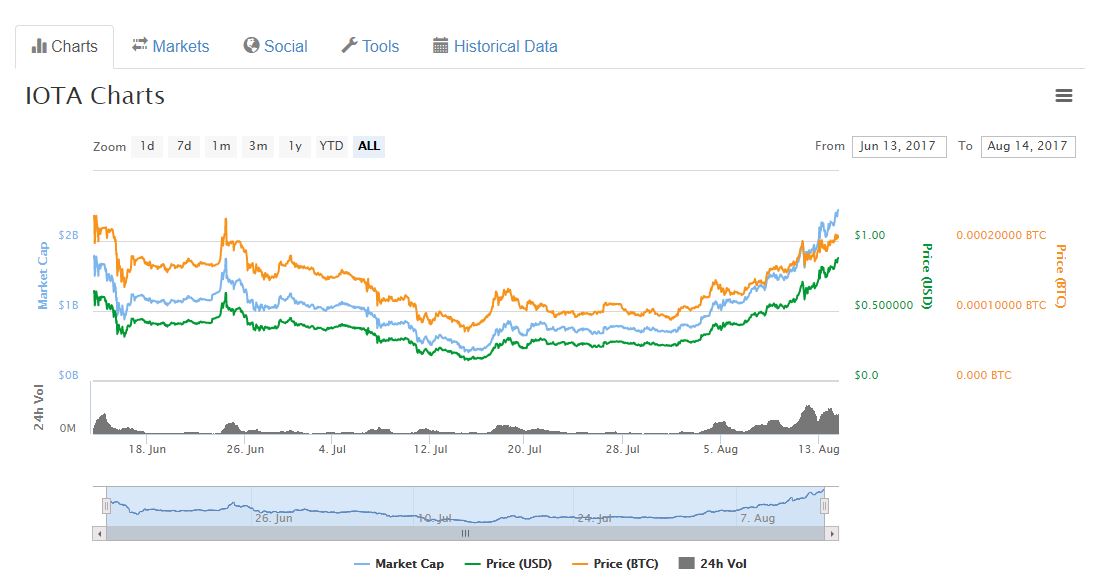 This surge in value is believed to be down to the fact that it has announced collaborations with several groups such as a non-profit organisation helping refugees. Joining the $1 billion club on the 4th August, IOTA currently has a market value of $2.461 billion.
Litecoin is Close Behind in Sixth
Sixth place litecoin is close on the tails of IOTA with a current market value of $2.401 billion. It's currently trading at $45.66 and has seen a -0.70 percent in 24 hours and -0.33 percent in the past seven days.
Over the past couple of years the price of litecoin has remained within the $3-5 range. However, it wasn't until April 2017 that its price increased. This was helped along by the activation of SegWit on its network. The support of litecoin on Coinbase also played a role. At its highest litecoin has achieved over $50.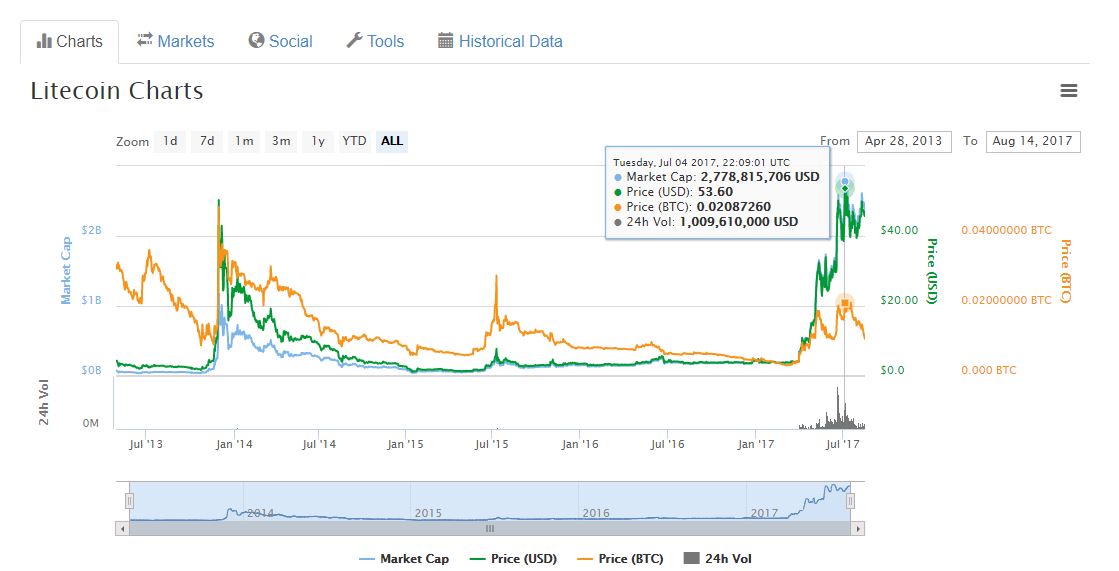 Moas is of the opinion that by 2018, litecoin could easily see it trading at $80. It remains to be seen whether or not the digital currency achieves this price, but it is steadily rising in price, which is giving confidence to many of its traders.
'Chinese Ethereum' NEO Takes Seventh
Formerly known as AntShares, NEO – known as the Chinese Ethereum – has a market value worth $2.3 billion. Since undergoing a rebrand the digital currency has soared in value.
In the past 24 hours, it has seen a 1.17 percent increase, but over the past seven days its value has jumped by 154.80 percent. It's trading at $46.63.
This chart, alone, indicates how far NEO has come in 2017.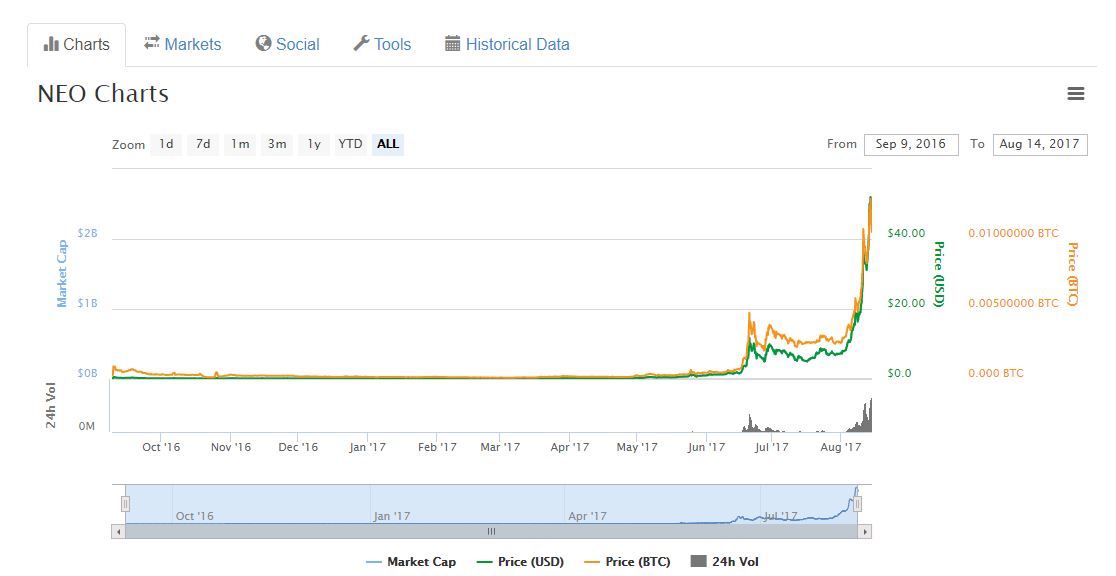 NEM Takes Eighth Place
Grabbing hold of a $2.094 billion market cap value is NEM. It's currently trading at $0.232741, but has seen a -12.14 percent decrease over the past 24 hours and a -13.89 drop in seven days.
As can be seen NEM has experienced a surge in price over the first half of 2017. As we continue into the second half it remains to be seen if the digital currency can produce a higher price.
Dash Falls into Ninth
With a market cap of $1.471 billion, Dash is currently sitting in ninth position. At the time of publishing it's trading at $196, but has seen a -3.43 percent drop in 24 hours. Over seven days, however, its value has risen by 1.29 percent.
On the 6th July, its value was trading at $222 when its market value was listed at $1.648 billion.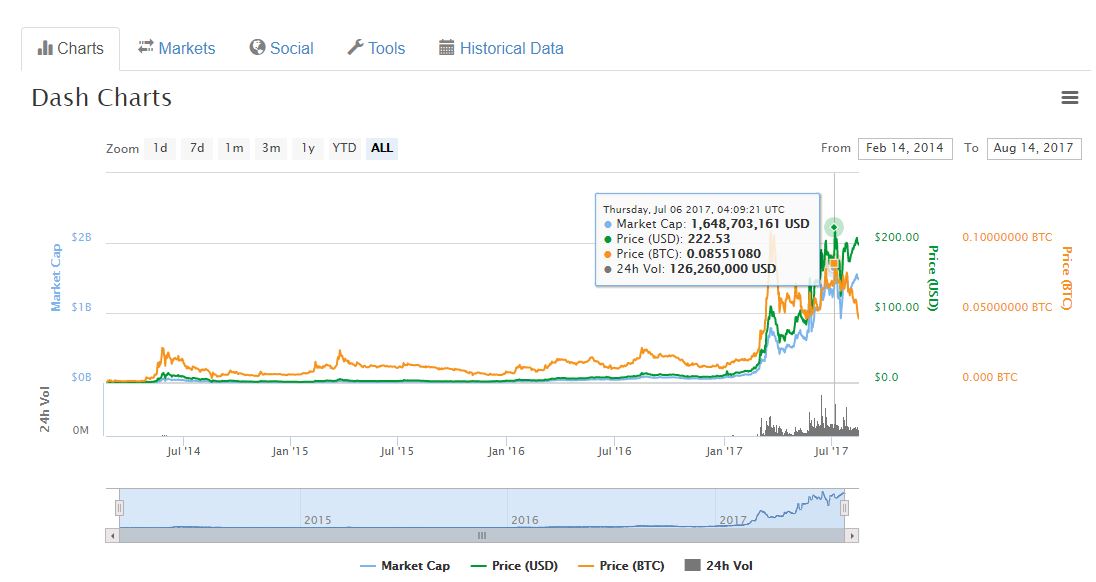 Ethereum Classic Makes Number 10
In tenth place is ethereum classic with a market cap value of $1.3 billion. Even though this is the original ethereum before a hard fork took place, which saw two ethereum coins, the community hasn't shown too much support for the original version.
At the time of publishing this altcoin is trading at $14.14, which has seen a -1.81 percent decrease in 24 hours and a -7.81 percent drop in seven days.
As shown from the chart above, it was back in June when ethereum classic recorded a high of nearly $23, helping to push its market value to $2.1 billion.
Of course with the market producing such changeable values the top 10 could easily change, pushing some down and others not mentioned up. Who knows who will be next to join the $1 billion club.
Featured image from Shutterstock.