The price of bitcoin soared above $4,400 and was within striking distance of $4,500 for the first time.
In the early hours of the 15th August, the digital currency recorded a new all-time high of $4,482, according to CoinDesk's Bitcoin Price Index (BPI).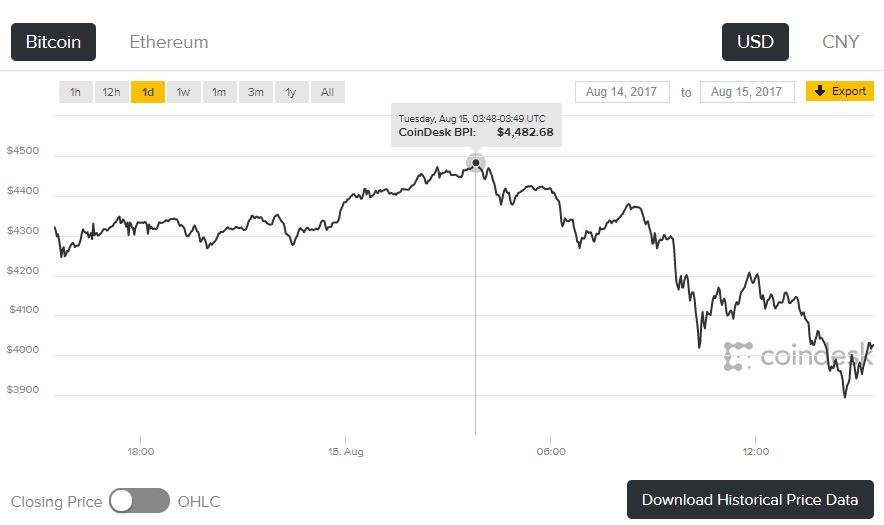 As can be seen from the chart above, throughout the day bitcoin's price has continued to fluctuate.
At the time of publishing, bitcoin is trading at just above $4,000 at $4,018, according to figures from CoinMarketCap.

As a result, it has seen a -6.03 drop in value within the past 24 hours, but a 17.69 percent increase over the past seven days.
This slight dip in price comes after days of record highs, which has seen the currency's market value soar to over $72 billion. At present, it's worth $66.3 billion. The drop in price could be due to investors taking some profit after the rapid rise, which is to be expected.
Since the beginning of the year, though, the price of the digital currency has quadrupled in value. This has been spurred on by strong interest from the Japanese as well as geopolitical turmoil in North Korea.
Despite a drop in value, Ronnie Moas, stock research analyst and founder of Standpoint Research, said that bitcoin could reach $7,500. This price is a revision from his early $5,000 price projection for 2018.
Moas said in light of the new $4,000 mark that:
"What's happening is the floodgates are opening. I believe there are hedge funds and very deep-pocketed individuals going into this now, really hundreds of millions of dollars."
Bitcoin Market Cap Nears Netflix
When bitcoin's market cap reached $72 billion it was reported to be within striking distance of major stocks like Netflix.
According to a report from CNBC, if the cryptocurrency was a stock it would rank as the seventy-fourth biggest by market capitalisation. Such a position would put it behind Adobe and Netflix on the S&P 500. Adobe has a market value of $73.6 billion while Netflix is worth $73.8 billion.
At present, bitcoin's market value has already overtaken Paypal, Costco and Salesforce. Bitcoin isn't a stock, though, as many investors view it as a currency or commodity.
However, due to its finite supply of coins, capped at 21 million, Moas is one individual who believes this could push bitcoin's price up.
Riding an Impulsive Rally
Other analysts are being more bearish.
Sheba Jafari, Goldman Sachs' chart analyst, said that the digital currency is riding a 'fifth wave' of an 'impulsive' rally. As such, Jafari thinks bitcoin's price will rise to $4,827 in the short term.
She said:
"Once a full five-wave sequence is in place, the market should in theory enter a corrective phase."
She adds:
"This can last at least one-third of the time it took to complete the preceding advance and retrace at least 38.2 percent of the entire move."
Jefari said that this could see the digital currency drop to as low of $2,221.
Bitcoin Price Swings
If such a situation proves itself true, it won't be the first time that the market has experienced a price correction.
When bitcoin sailed through the $3,000 barrier in mid-June it subsequently lost over $1,000 in value. On the 15th June, the digital currency was trading at $2,330, pushing its market cap down to $40 billion.
On the 26th June, the community underwent an anticipated price correction. While Fred Wilson, digital currency investor and Union Square Ventures partner, wrote in a blog post that:
"My gut says we are headed for a selloff in the crypto sector."
Not All Doom and Gloom
It's natural that the market will experience a slight drop in price after its rapid rise. Many think, though, that in the long-term its price will increase into the hundreds of thousands.
Dennis Porto, a bitcoin investor and Harvard academic, is one individual who has projected a high price. So much so, that he believes bitcoin will reach $100,000 by February 2021. He claims this is possible if it follows Moore's law.
Kay Van Petersen, a Saxo Bank analyst, has predicted that the digital currency's price will reach $100,000 in 10 years. This is the same analyst who rightly predicted that bitcoin would reach the $2,000 mark in 2017.
Not as bullish is Tom Lee, a strategist at Wall Street firm Fundstrat. He thinks that by 2020, the digital currency will be worth between $20,000 and $55,000.
As can be seen, though, these projections paint a bright future for the digital currency's market. As a result, it's becoming harder for investors to ignore the cryptocurrency sector. This is according to Goldman Sachs, who recently said in a note that:
"With the total value nearly $120 billion, it's getting harder for institutional investors to ignore cryptocurrencies."
At the time of publishing the entire market cap value is worth $133.3 billion.
Altcoins Drop in Value
It's not just bitcoin that has seen a drop in value.
Ethereum's price has dropped too. At present, it's worth $285 and has seen a -4.19 percent drop in 24 hours. Over the last seven days, its value has decreased by -0.38 percent. Its market value is now worth $26.8 billion.

Third place ripple has dropped in price as well. It's now trading at $0.160454 and has a market cap of $6.1 billion. In 24 hours its value has decreased by -5.27 percent and in seven days it has dropped by -12.38 percent.

Bitcoin cash, in fourth place, has experienced a slight drop too. At present, it's trading at $295 with a market cap of $4.8 billion. Over 24 hours it has dropped by -1.05 percent and in seven days a decline of -15.31 has been reported.

Despite these price declines, eight place NEO is steaming ahead. Its market cap is currently worth just over $2 billion and is trading at $41.86. Even though it has dropped by -9.81 percent in 24 hours over seven days it has increased its value by an impressive 142.25 percent.

It remains to be seen how far this altcoin can go.
Furthermore, the community will be watching and waiting to see how much further the price of bitcoin will drop or if another surge in its price will be recorded. For now, many traders are enjoying this price rise which is producing big profits for many.
Featured image from Shutterstock.