The number one digital currency has gone and done it again. The bitcoin price has scaled to over $4,600 for the first time, pushing its market cap value to over $76 billion.
At 13:54 UTC, on the 29th August, the bitcoin price was recorded at $4,602. As a result, the combined market value soared to $164.4 billion.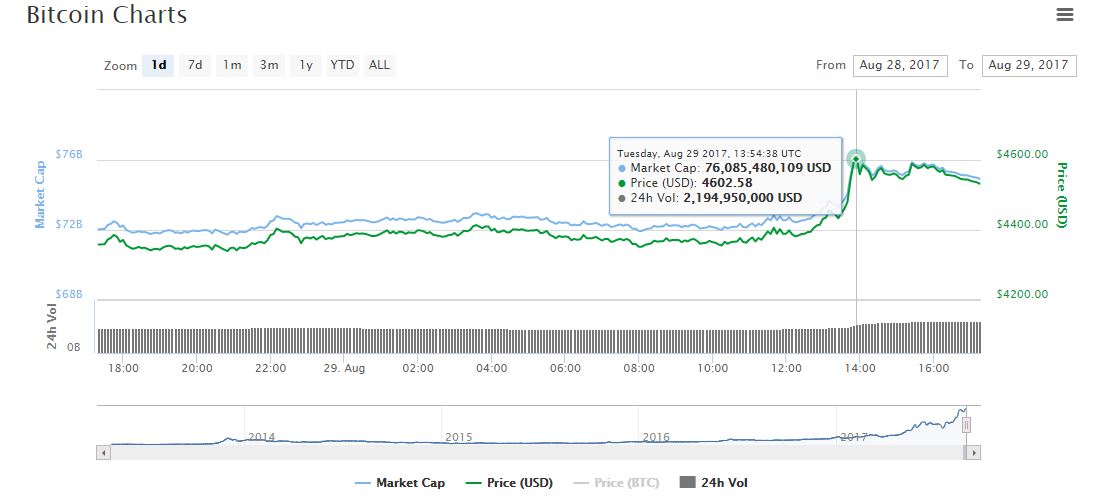 At the time of publishing its price has dropped to $4,542. However, it marks a significant time for the digital currency.
Since the beginning of 2017, the bitcoin price is up by around 350 percent from roughly $1,000 on the 1st January. It has since quadrupled in value. On the 13th August, bitcoin finally managed to scale the $4,000 mark amid strong Japanese interest. Geopolitical turmoil in North Korea has also impacted its price as investors continue to consider it as a safe haven.
The week prior to that the bitcoin price had re-scaled the $3,000 mark when it reached $3,200 for the first time. Since then it has continued its upward trajectory, pushing the currency to new heights.
Ethereum Scales $360
Ether prices have also surged to new heights not seen in two months.
At the time of publishing, ethereum is trading at $369, pushing its market cap to $34.8 billion. In 24 hours it has risen by 7.30 percent whereas in seven days it has increased by 17.24 percent.

As can be seen from the chart below, ethereum's price dropped to a low of $149 on the 16th July. Since then it has steadily been climbing up in price back to its current listing. Prior to dropping to $149, ether prices were trading below $400, at $391. It has yet to re-scale to that previous high. However, with its steady price gains it's expected to see new heights.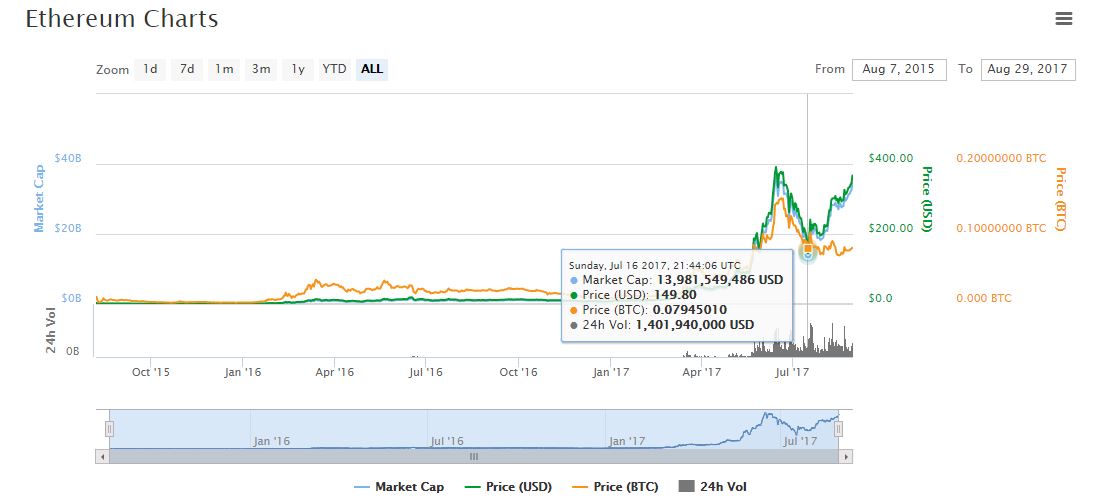 Litecoin Climbs Above $60
Fifth-placed litecoin has also recorded new highs. Strong trading has helped to push its price over the $60 mark for the first time.
This price rise is due to increased trader interest from Japan and Korea. According to a report, Korean exchange Bithumb was responsible for over 20 percent of trading in litecoin in the past 24 hours.
At the time of publishing, litecoin is trading at $62.51, with a market cap value of $3.2 billion. In the past 24 hours its value has decreased by 1.07 percent. Meanwhile, in seven days its has risen by 34.13 percent.

At its peak, litecoin was trading at $64.92 on the 28th August. Yet, considering litecoin was trading just above $4 at the beginning of 2017 this is a significant milestone. It remains to be seen how much further the currency can go.
Charlie Lee, the founder of litecoin, recently took to social media to express his delight.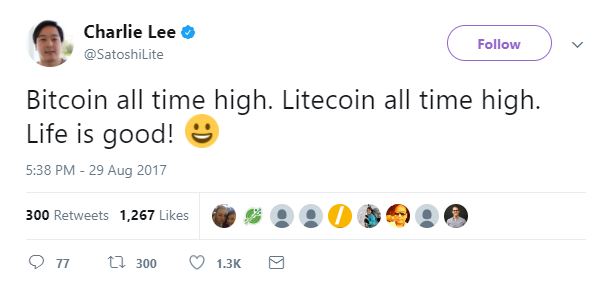 New Price Heights
What we are witnessing now, however, is just the start. According to Ronnie Moas, Standpoint Research founder, he predicts great things for the market.
Back in July, Moas said that bitcoin would reach $5,000 by 2018. He also said that ethereum would rise to $400 whereas litecoin double to $80.
At the time Moas said:
"$5,000 could happen in a few months. It's only starting to gain traction right now. It's starting to spread like wildfire right now."
He determined that its price would go up as demand increased for its coins. At present, 16.5 million coins out of the capped 21 million has been issued.
Since making his prediction in July, Moas has increased the value to $7,500. This was after the bitcoin price scaled $4,000. He believes, though, that by 2027 each unit of bitcoin will be worth $50,000.
Furthermore, Moas thinks that the combined market cap will reach $2 trillion in 10 years. At a conservative estimate, he thinks that one percent of the $200 trillion global market will be invested in cryptocurrencies.
He said:
"A lot of people say there is a bubble out there. I see a bubble when you get down below the top 50 cryptocurrencies. There are more than 800 names right now. In my view, what happens outside the top 50 is irrelevant."
Whereas, Aurelien Menant, CEO of regulated digital currency exchange Gatecoin, has said in the past:
"I would not be surprised to see the bitcoin price doubling again to around $6,000 by the end of the year."
One bullish analyst thinks bitcoin's price will reach $15,000 by the end of 2017. Even though there are only four months left of the year veteran trader masterluc has great confidence in bitcoin. Masterluc is of the opinion that bitcoin will continue its bull run into 2019. At which point he thinks that its worth will between $40,000 and $110,000.
Long-Term Price Heights
Others, however, have been thinking long-term for the currency's future. So much so, that Dennis Porto, bitcoin investor and Harvard academic thinks it will scale $100,000 by February 2021. He thinks this is possible by simply following Moore's law.
However, Kay Van Petersen, Saxo Bank analyst thinks it will reach $100,000 by 2027. Many may have confidence in Van Petersen's prediction considering he correctly predicted when bitcoin would reach $2,000.
Some less bullish estimates include one from Tom Lee, a strategist at Wall Street firm Fundstrat. He thinks that bitcoin's worth will be between $20,000 and $55,000 by 2020.
In a report, Lee said:
"We believe one of the drivers [of bitcoin] is crypto-currencies are cannibalizing demand for gold. Based on this premise, we take a stab at establishing valuation framework for bitcoin. Based on our model, we estimate that bitcoin's value per unit could be $20,000 to $55,000 by 2022."
At the time Lee's prediction was considered bullish. However, since then others have made bigger predictions for the currency.
It remains to be seen who is right. Yet, at present it seems that the market will continue its upward trajectory to reach new heights.
Caution Urged
Interestingly, Llew Claasen, the executive director at the Bitcoin Foundation, has urged investors to be cautious with their investments.
Speaking at a recent conference in Africa, Claasen spoke about the potential bitcoin has in the continent. Yet, he stated that users should only invest what they can afford.
He said:
"To be honest bitcoin is not a great form of cash right now. Don't think of it as cash, think of it as a digital form of gold that enables you to save outside of the current financial climate."
Featured image from Shutterstock