Criminals are dropping bitcoin in favour of other cryptocurrencies in a bid to achieve greater anonymity for their criminal activities.
That's according to the co-founder and president of Blockchain Intelligence Group. He estimates that the number of illegal transactions involving bitcoin fell from half the total volume to around 20 percent last year.
In an interview with CNBC, Shone Anstey, co-founder and president of Blockchain Intelligence Group, said:
"Now it's significantly less than that."
This is despite the fact that the overall transaction volume in bitcoin has grown. At the time of publishing, on the 31st August, bitcoin is trading at $4,614, a 0.77 percent rise in 24 hours. Over the past seven days its value has increased by 10.52 percent. Its market cap is now worth $76.3 billion.

After bitcoin recently soared above the $4,600 mark it would be natural to think that criminals would favour it more. However, it appears that that isn't the case.
Criminals Look Elsewhere
Instead, it seems that criminals are now turning their attention to other cryptocurrencies. According to a U.S. Homeland Security official criminals are 'looking more closely at other currencies like monero and ethereum.'
The official said:
"What the criminals are starting to see, and some of the trends we're picking up as well, is that bitcoin also works equally just as much against you as it does for you."
According to Chainalysis, the leading provider of anti-money laundering software for bitcoin, the rise of cybercrime in ethereum has risen with initial coin offering (ICO) financing. In a blog post, it states that total cybercrime revenue rose from $100 million in June to $225 million in August this year.
The highest grossing exploit was the DAO hack in 2016 after the DAO had sold over a billion tokens worth $150 million. Taking advantage of a vulnerability, criminals managed to steal around $74 million worth of DAO tokens from 11,000 victims.
Smart coding company Parity has also been subjected to a security breach. On the 19th July, it reported that more than 155,000 ether, worth $35 million, had been stolen.
Chainalysis states that as ICOs are time sensitive access to the sale necessitates investors to trade their ether quickly for alternative tokens. As a result, investors may find themselves tricked into providing their credentials to fake websites.
This was certainly the case for victims of the CoinDash ICO, which occurred prior to the Parity hack on the 17th July. A hacker was able to steal over $10 million after changing the contract address of the ICO project. Investors unaware of the situation continued to place their funds into the hacked CoinDash account. Consequently, around 43,500 ether was sent to the fake address.
Chainalysis adds:
"These credentials are then used to drain accounts. The average financial loss incurred per victim has increased by 20% from $6,700 in June 2016 to $8,000 since the DAO."
Since the DAO, Chainalysis estimates that there has been around 30,000 victims of cybercrime on ethereum, each losing an average of $7,500.
Monero Gains in Value
Since the beginning of 2017 monero's value has increased significantly. At the time of publishing its trading at $140, which is an 8.45 percent rise in 24 hours. Over seven days its value has increased by 60 percent. Its market cap is worth just over $2 billion.

As can be seen from the chart below, monero was trading at $16.40 at the beginning of 2017. Then its market cap value was worth nearly $224 million.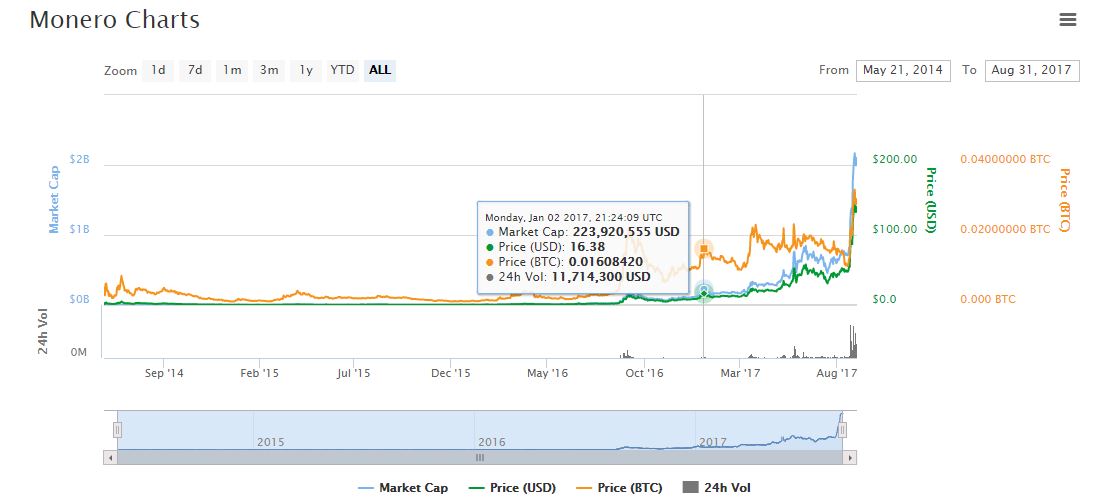 Its explosive growth could be down to the fact that it is designed to be more private than bitcoin. This means it's completely anonymous and virtually untraceable. Consequently, this makes it the perfect altcoin for criminals to use.
The highest it has reached is $154, up over 1,000 percent this year, according to CoinMarketCap.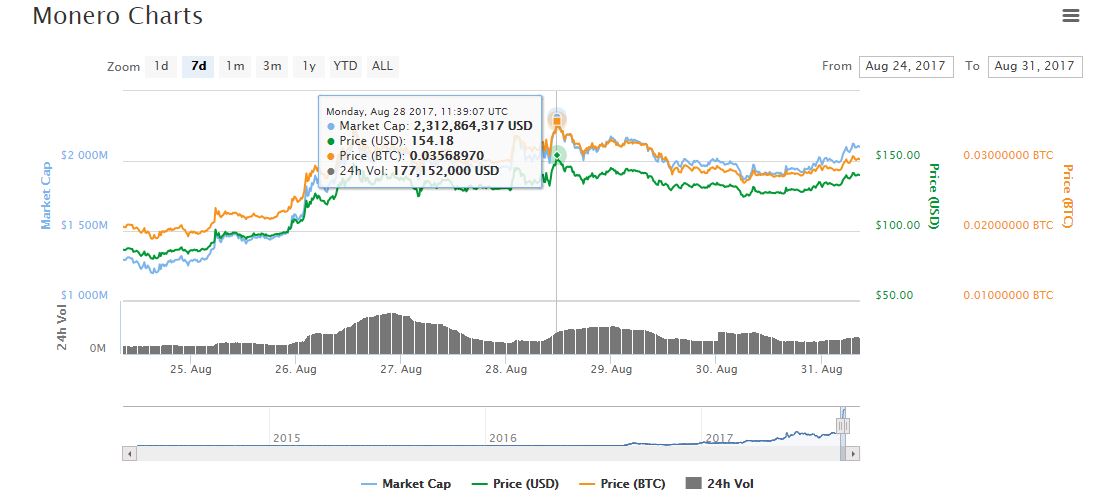 For those craving the need for secrecy on the dark web criminals are turning to monero. Darknet marketplace AlphaBay was one site that permitted people to use monero and ethereum as alternatives to bitcoin. However, AlphaBay was shut down by law enforcement on the 20th July. According to a report, authorities in the U.S., Canada and Thailand coordinated raids on the 5th July, which saw equipment being seized. Europol claim that since 2014, when AlphaBay was founded, an estimated $1 billion in transactions has been processed.
Authorities Get Savvy
AlphaBay is not the only darknet marketplace that authorities have shut down.
According to the U.S. Justice Department and Europol, another large dark web marketplace was also seized this year. Known as Hansa, it listed thousands of vendors selling illegal drugs, illicit products and counterfeit identification documents.
Following that was the announcement from the U.S. District Court for the Northern District of California. On the 26th July, a grand jury had charged Russian national Alexander Vinnik and the bitcoin exchange he is alleged to have operated, BTC-e, with money laundering and other crimes related.
Derek Benner, Homeland Security Investigations (HSI) Acting Executive Associate Director, said:
"Homeland Security Investigations is strongly committed to tracking down criminals who seek to strike at the foundations of global financial security through complex money laundering schemes. The resulting indictment is a clear representation of why our close law enforcement partnerships are vital to our shared missions. HSI will continue to aggressively target those who deliberately seek to exploit financial systems for personal gain."
The Homeland Security official added:
"We're getting a lot better through law enforcement tracking those [criminals] and holding the exchanges more accountable. I think [bitcoin]'s a lot more legitimate than people give it credit for."
Bitcoin Will Still be Used
Even though a July report from the EU suggested criminals were rarely using cryptocurrencies, they will still find it attractive. This is because they can convert it easily into cash without any middle men.
However, while bitcoin was perceived to be anonymous when it first emerged, it doesn't offer the same level of anonymity that monero does. So much so, that Llew Claasen, the executive director of the Bitcoin Foundation recently said at a conference:
"Bitcoin is not completely anonymous and it is fairly easy for someone, say a revenue officer, to work backwards to find who was responsible for a transaction."
Featured image from Shutterstock.