Chinese bitcoin exchange ViaBTC has announced that it will be launching an overseas platform after Chinese authorities cracked down on digital currency exchanges in the country.
On September 25, ViaBTC is expected to suspend its domestic services to customers. As a result, it has urged current investors to withdraw their assets before closing.
At a global blockchain event held in Hong Kong, Haipo Yang, CEO of ViaBTC, said:
"A third of our customers come from outside China, and I believe these overseas users will continue to use the ViaBTC platform, so we can still provide value."
However, while this will no doubt help boost bitcoin trading, Haipo said no time frame had been established to relaunch the platform abroad.
Other mainland digital currency exchanges due to cease operations include BTCC, OKCoin and Huobi. BTCC is also expected to stop its domestic services at the end of September. However, it has been reported that OKCoin and Huobi have until the end of October. This is due to their large customer user base and because neither listed ICO trading pairs.
China Takes Steps to Ban ICOs and Domestic Exchanges
The start of September saw a new record high for bitcoin when it reached the $5,000 mark on the 2nd September. Yet, this new high was short-lived. Shortly after, on the 4th September, Chinese authorities outlawed initial coin offerings (ICOs). According to regulators they are an illegal form of fund-raising, which is linked to financial fraud and pyramid schemes.
Following the ICO announcement, rumours began circulating that domestic digital currency exchanges would be targeted too. These rumours eventually became fact, which saw China ordering the closure of several prominent exchanges.
Consequently, market prices plummeted. At the time of publishing, on the 22nd September, bitcoin is trading at $3,626, a 6.54 percent drop in 24 hours. Over seven days, though, it has risen by 12.19 percent.

So far, the lowest trading price for bitcoin was on the 15th September. Then it was valued at $2,947, pushing its market cap down to $48.8 billion, according to CoinMarketCap.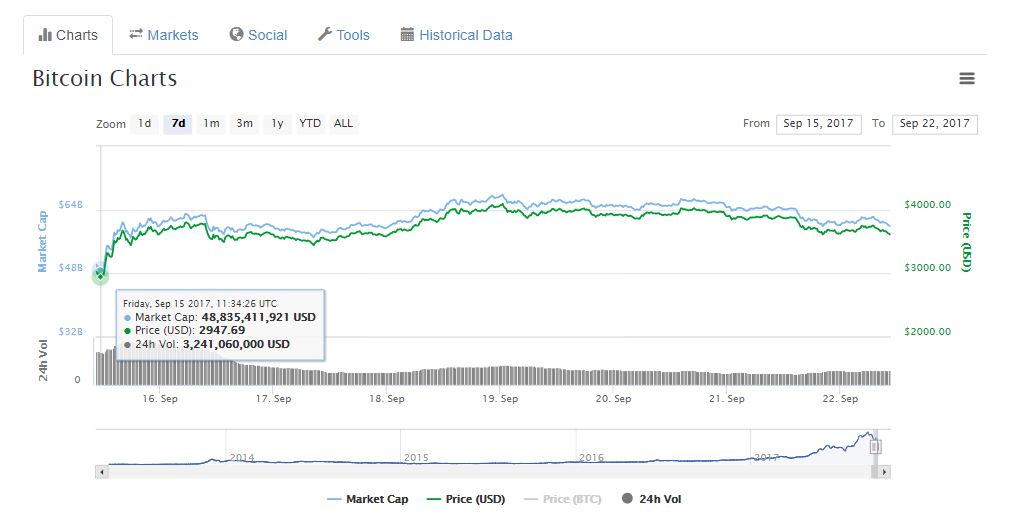 Since then bitcoin's price has risen and fallen, even climbing back up to $4,000 at one point. Yet, it is due to the fact that there is a large amount of investor speculation, it's decentralised and volatile that authorities are looking at it closely.
The National Internet Finance Association (NIFA), a self-regulatory body established by the People's Bank of China (PBoC) called cryptocurrencies 'a tool for money laundering, drug trafficking, smuggling, illegal fund-raising and other criminal activities.'
Could Mining be Impacted Too?
ViaBTC also operates a bitcoin mining pool. However, speculation remains as to whether China's ban will extend to mining operations as well.
Chinese exchanges make up around 10-15 percent of trading volume. Yet, they account for around 65 percent of total bitcoin hashrate. However, it's possible to use virtual private networks (VPNs) to get around China's block.
Recently, Yang took to social media to say: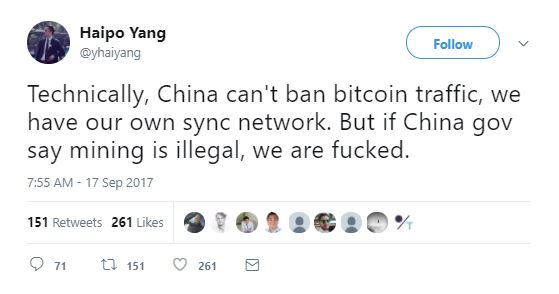 It remains, therefore, to be seen what China's next move will be.
Yang said:
"We have yet to receive notice that we need to halt mining, so [mining] is operating as usual."
Yang is of the opinion that digital currencies can't be banned from the country.
He added:
"The bitcoin network is fully distributed, even if there is the [great firewall], users can easily bypass this using methods like [virtual private networks]"

"Synchronising bitcoin information is easy, as long as one [computer] in China is synchronised on the bitcoin network, every other [bitcoin] computer will also obtain the full information on the network."
Regulatory Oversight Needed
According to a former U.S. market regulator, the volatility of bitcoin's prices are concerning. So much so, that he believes the only solution is through regulation.
Bart Chilton, the former commissioner for the Commodity Futures Trading Commission (CFTC), made his comments in a recent opinion article on CNBC.
In it he discusses China's closure on digital currency exchanges and Jamie Dimon's remarks on bitcoin. The CEO of JPMorgan called bitcoin 'a fraud' while claiming that the currency 'won't end well.'
Chilton believes that China's actions should be a wake up call for bitcoin enthusiasts.
He wrote:
"Rather than waiting for governments to take actions that thwart the development of digital currencies, they should lead efforts to put in place appropriate regulatory oversight for these new and innovative financial technologies."
He added:
"Visionary leadership is needed. Without it, there's a mounting risk that more and more governments will simply ban—or over-regulate—bitcoin and other digital currencies."
Dimon Knocks Bitcoin Again
Dimon was obviously not happy at the shot he took at bitcoin the first time round. As a result, he has done it again.
Not only is the currency 'a fraud,' but he claims that cryptocurrencies are a 'novelty' and are 'worth nothing.'
During an interview with CNBC-TV18 in New Delhi, India, he said:
"Right now these crypto things are kind of a novelty. People think they're kind of neat. But the bigger they get, the more governments are going to close them down."
He added:
"It's creating something out of nothing that to me is worth nothing. It will end badly."
His comments have drawn criticism from the bitcoin community.
Scott Nelson, CEO and chairman of blockchain firm Sweetbridge, said last week, in light of Dimon's fraud remarks, that:
"Comments like Jamie's show a failure to grasp the significance of the blockchain and the power of brand in a fundamental sea of change."
Meanwhile, London-based Blockswater, an algorithmic liquidity provider, has filed a complaint against Dimon for 'spreading false and misleading information' about bitcoin.
According to a report, Dimon violated Article 12 of the European Union's Market Abuse Regulation (MAR) when he called bitcoin a fraud.
Florian Schweitzer, managing partner at Blockswater, said:
"Jamie Dimon's public assertions did not only affect the reputation of bitcoin, they harmed the interests of some of his own clients and many young businesses that are working hard to create a better financial system."
The complaint was filed with the Swedish Financial Supervisory Authority and Schweitzer has asked the Swedish regulator to investigate. He notes in his complaint that market abuse in Sweden is punishable by up to two years in jail.
Featured image from Shutterstock.