Bitcoin is trading under $4,450, but according to investor Dennis Gartman he's not buying into the digital currency.
According to the editor and publisher of The Gartman Letter, he doesn't understand bitcoin.
He said:
"It is a punter's dream. I give them credit for that, but it is something that I will absolutely stay away from, have stayed away from it, didn't understand it to begin with, don't understand it now."
As of the 17th August, bitcoin is trading at $4,439, pushing its market cap to $73.3 billion. In the past 24 hours its value has risen by seven percent. Over the last seven days it has increased by 31.24 percent, according to CoinMarketCap.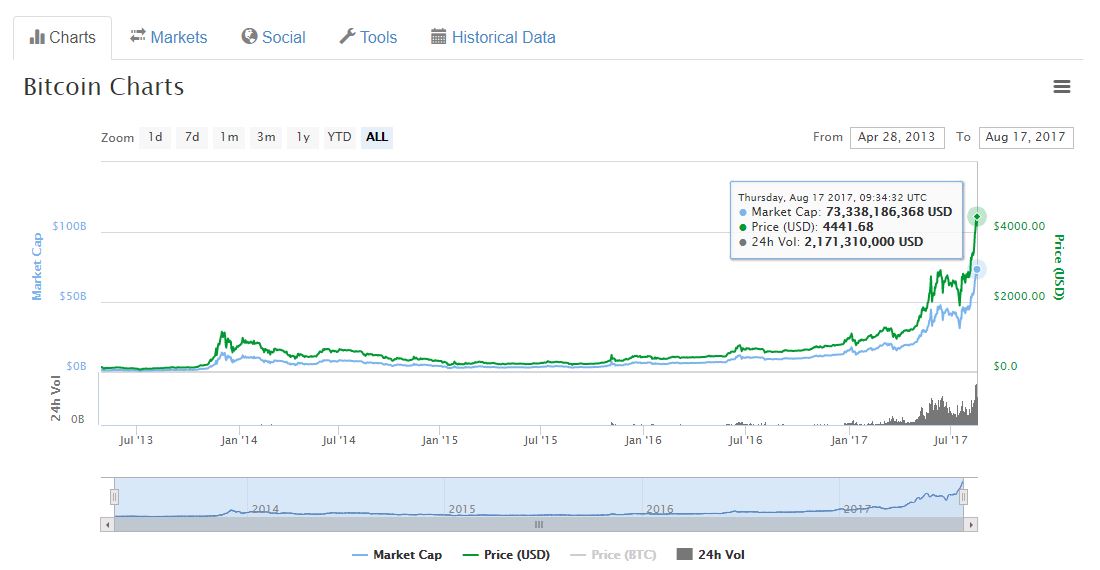 Despite bitcoin's dominance, Gartman remains weary. So much so, that the currency's price fluctuation isn't convincing him to invest. The highest figure it has reached was when it was within touching distance of $5,000 at $4,482. Shortly after it dropped to just above $4,000.
He states:
"What bothers me is that something that can move 5, 10, 15, 18 percent in the course of the day for what's supposed to be a pricing mechanism. How can you buy a house? How can you buy a car? How can you buy Starbucks with bitcoin when the price is going to fluctuate as [dramatically] as it has?"
Bitcoin's Value Quadruples
Since the beginning of 2017 the number one cryptocurrency has seen its value quadruple. Then its market value was worth just $16.5 billion. While that was still an impressive figure, it's not anywhere near what it has achieved to date.
According to a report, if bitcoin was a stock it would rank as the seventy-fourth biggest by market capitalisation. This would put it in league with Adobe and Netflix on the S&P 500. Adobe has a market value of $73.6 billion while Netflix is worth $73.8 billion.
It has already passed the likes of PayPal, Costco and Salesforce.
Furthermore, by 2030, research by U.K.-based Magister Advisors suggests that bitcoin will become the sixth largest global reserve currency. After interviewing thirty leading bitcoin companies they believe it could be as widely used as the Swiss franc or the Australian dollar.
Optimism over Bitcoin
It's now getting harder for investors to ignore digital currencies. That's according to Goldman Sachs.
On the 5th August, when bitcoin reached $3,200 for the first time, analyst Robert D. Boroujerdi and his team said:
"With the total value nearly $120 billion, it's getting harder for institutional investors to ignore cryptocurrencies."
Nearly two weeks later and the market cap value is worth $144.6 billion.

Naturally, with the digital currency continuing to dominate the market, investor interest is increasing. Not only that, but many are turning to bitcoin as a safe haven amid geopolitical turmoil.
In light of North Korea's nuclear threat there has been a global selloff in stocks and bonds.
Recently, Brian Kelly, a CNBC contributor and head of BKCM, which runs a digital asset strategy, he said:
"Bitcoin is benefiting from geopolitical tensions – trading in Japan and Korea has increased significantly over the last few months."
Furthermore, Fidelity Investments announced that they would be allowing clients to see their bitcoin and ethereum holdings on Coinbase. This is a rare example of an established financial services company being embracive toward digital currencies.
Hadley Stern, senior vice president and managing director at Fidelity Labs, said:
"This is an experiment in the spirit of learning what these crypto assets are like and how our customers may want to interact with them."
Abigail Johnson, Fidelity's CEO, has, in the past, spoken about her enthusiasm over the digital currency market.
Can it Scale $7,500?
With the current trajectory that bitcoin is on, one has to wonder how far it can go?
Ronnie Moas, Standpoint Research founder, recently made a revised projection that the digital currency could reach $7,500. In July he stated that it would scale to $5,000 predicting this would be achieved by 2018.
In light of bitcoin's recent movements $7,500 is his new estimate.
According to Moas:
"What's happening is the floodgates are opening. I believe there are hedge funds and very deep-pocketed individuals going into this now, really hundreds of millions of dollars."
He also thinks that the value of bitcoin will climb to $50,000 by 2027. Compared to others, though, Moas' estimations are quite conservative, which he admits to.
$100,000 Predictions
Unlike Moas, Dennis Porto, a bitcoin investor and Harvard academic, he predicts that bitcoin's value will jump to $100,000 by February 2021. He thinks this is possible if the currency follows Moore's law.
He said:
"Any technology that is growing exponentially (i.e., 'following Moore's law') has a doubling time."
According to Porto, since bitcoin was introduced in 2009 it has double every eight months. Therefore, until it reaches mass adoption, he thinks bitcoin could reach $100,000 by 2021.
Kay Van Petersen, a Saxo Bank analyst has also predicted a $100,000 future for the digital currency. However, he thinks this will happen in 10 years time.
In a report, Van Petersen said that while his estimations are 'conservative' he believes in where the market is going.
He said:
"This is not a fad, cryptocurrencies are here to stay. There will emerge two to three main ones. Bitcoin will be one of those. And the reason is the first-mover advantage, the scale and the pioneering."
Interestingly, this is the same analyst who rightly predicted that bitcoin would reach the $2,000 mark by 2017.
A Wait and See Approach
All that remains is to wait and see what will happen next. Will bitcoin's price go up or will it go down? Who knows, but a period of adjustment is to be expected. With such massive gains the digital currency will undergo a price correction.
According to Sheba Jafari, Goldman Sachs' chart analyst, the cryptocurrency is currently in the 'fifth wave' of an 'impulsive' rally.
She thinks, in the short-term, its price will rise to $4,827 before entering a corrective phase.
She adds:
"This can last at least one-third of the time it took to complete the preceding advance and retrace at least 38.2 percent of the entire move."
As such the digital currency could drop as low as $2,221 in Jafari's opinion. For now, though, many are enjoying the advancements that the currency is making.
Featured image from Shutterstock.