The U.K.'s financial regulator has issued a warning to bitcoin traders over the frenzy created by initial coin offerings (ICO), some of which are being promoted by celebrities such as Paris Hilton and boxing champion Floyd Mayweather.
The Financial Conduct Authority (FCA) has said that traders investing in ICOs should be prepared to lose all of their money. Furthermore, they should be aware that some may end up being scams.
It said:
"ICOs vary widely in design. The digital token issued may represent a share in a firm, a prepayment voucher for future services or in some cases offer no discernible value at all. Often ICO projects are in a very early stage of development. ICOs are very high-risk, speculative investments."
It added:
"You should be conscious of the risks involved and fully research the specific project if you are thinking about buying digital tokens. You should only invest in an ICO project if you are an experienced investor, confident in the quality of the ICO project itself and prepared to lose your entire stake."
Following this was a list of the risks associated with ICOs. These included:
Unregulated space
No investor protection
Price volatility
Potential for fraud
Inadequate documentation
Early stage projects
It added that some ICOs may not use the money raised 'in the way set out when the project was marketed.'
China Bans ICOs
The FCA's comments come at a time when China recently outlawed ICOs in the Chinese nation. China has also said that it plans on banning the trading of digital currencies on domestic exchanges. At the beginning of September, the ban was backed by seven of China's regulators. It is hoped this will stamp out fraudulent fundraisers.
According to a report, Beijing and Shanghai have seen an increase in ICO trading. So far, this year has seen the launch of 65 ICOs. This has raised around $400 million from 105,000 investors.
When someone invests in an ICO their money goes up when the coin's value increases. To date, bitcoin has more than quadrupled during 2017. At the beginning of the year bitcoin was valued at $1,000. Yet, at the start of September it had risen to $5,000. As of the 13th September, bitcoin is trading at $3,902. It's believed that China's plans for digital currency exchanges is impacting the price of bitcoin.
Ethereum has also seen its value rise. At the beginning of the year it was trading around $8. Now, though, it's valued at $260. As a result, traders are willing to speculate and put their money into ICOs. Of course, because of the market's rise in value many ICOs are taking advantage and are simply scams to steal money.
China's regulators believe that the issuance of token sales is illegal. As a result, they are keen to crackdown on fundraising activities in the country.
Following the ban, a statement from the regulators said:
"In essence, it is a kind of non-approved illegal open fund raising behavior, suspected of illegal sale tokens, illegal securities issuance and illegal fund-raising, financial fraud, pyramid schemes and other criminal activities."
BitKan Freezes Trading Services
Since the ban, one Chinese over-the-counter (OTC) trading service for digital currencies has frozen its activities.
BitKan said in a post that it would be suspending trading on the 14th September at 12:00 a.m., Beijing time. This is due to increased pressure from authorities. However, it didn't mention when it would resume services, if at all. The move from BitKan is interesting as OTC traders may be excluded from the ban. The ban, at the moment, only impacts exchange-based trading.
Celebrities Promote ICOs
The increase in ICO trading is partly down to celebrities promoting them. This, in turn, is causing a frenzy as new investors jump on board.
At the end of July, boxing champion Floyd Mayweather took to Instagram to promote an ICO. In the photo Mayweather predicted that he would make a lot of money in the ICO for Stox, a prediction market project, which launched at the beginning of August. In its token sale, Stox went on to raise $30 million.
At the end of August, Mayweather then promoted his second ICO on Twitter. This time it was for the token sale of the Hubii Network, which is developing a blockchain-based content marketplace. He also mentioned the hash tag #CryptoMediaGroup, but didn't elaborate.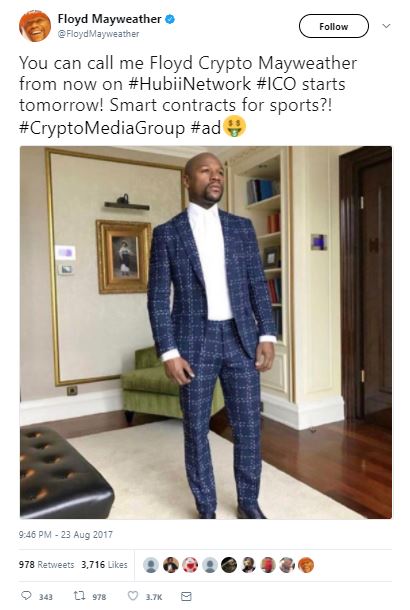 Celebrity heiress and reality TV star Paris Hilton is the latest celebrity to jump on the ICO band wagon. On the 4th September, it was reported that Hilton had announced her participation in a token sale.
Taking to Twitter, she said:
"Looking forward to participating in the new @LydianCoinLtd Token! #ThisIsNotAnAd #CryptoCurrency #BitCoin #ETH #BlockChain."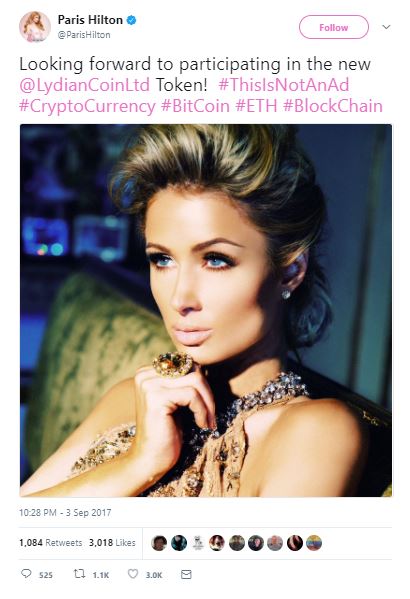 Many, however, remain dubious as to nature of the ICO. One person tweeted: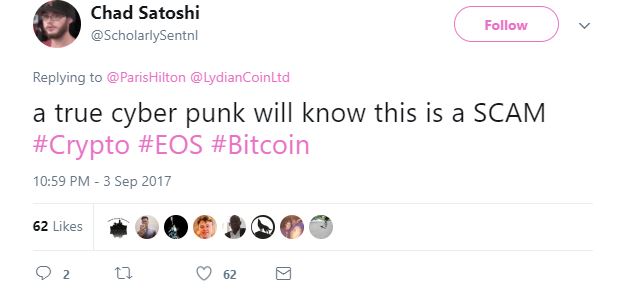 Called Lydian, the project claims that it is 'developing blockchain driven technologies to reduce ad fraud and to maximize the effectiveness of ad marketing expenditures.'
A PR for it said:
"It aims to address the trust and transparency issues affecting digital marketing platforms using blockchain distributed ledgers and industry exclusive data sets to democratize trust at scale."
China's Ban Shouldn't Stop Firms Researching the Blockchain
This is according to the director general of the Chinese central bank's research institute.
In a report, Sun Guofeng, from the People's Bank of China (PBoC), said that the ICO ban was 'necessary and timely.'
However, he added:
"This should not prevent relevant financial technology companies, industry bodies and other technology firms from continuing their research into blockchain technology."
He added that the blockchain is a 'good technology' and that an ICO is not the only way to research it.
For many, this move from China will be considered further interference from authorities keen to curb the market. For others, however, it's a step in the right direction.
Sasha Ivanov, CEO of blockchain company Waves, said:
"There's no secret that a lot of the initial coin offerings, with ads on Facebook promising huge discounts and returns, are nothing but a scam."

"The Chinese government could cope with those companies working in a shadow zone of the law, but they have finally lost patience, as more and more companies tried to raise millions for nothing."
David Moskowitz, co-founder and CEO of blockchain-powered social network Indorse, said that it would help to protect consumers from fake ICOs.
"We hope the authorities will recognize the potential of the sector for economic growth and technological development, and enact rules which will allow for the safe and secure future of the industry."
Featured image from Shutterstock.