The head of the International Monetary Fund (IMF) has said cryptocurrencies may eventually give traditional banking systems 'a run for their money.'
Speaking at a Bank of England conference at the end of September, Christine Lagarde, the managing director of the IMF, said that 'it may not be wise to dismiss virtual currencies.'
She added, however, that:
"For now, virtual currencies such as bitcoin pose little or no challenge to the existing order of fiat currencies and central banks."
The reason this is is because cryptocurrencies are 'too volatile, too risky, too energy intensive, and because the underlying technologies are not yet scalable.'
Yet, she states:
"Many of these are technological challenges that could be addressed over time."
She cites the fact that experts once believed that personal computers would not catch on and that tablets would simply be regarded as 'expensive coffee trays.'
Adopting Cryptocurrencies
Notably, Lagarde outlines how countries with weak economies and unstable national currencies might embrace digital currencies instead of another country's currency such as the U.S. dollar or the British pound.
Furthermore, it might provide them with better value for money by doing so.
She explains by saying:
"It may one day be easier and safer than obtaining paper bills, especially in remote regions. And because virtual currencies could actually become more stable."
She went on to say that countries may increasingly turn their attention to new payment services through a decentralised economy. Rather than paying by credit card or e-money, which charge high fees for small transactions, particularly across borders, cryptocurrencies may flourish.
"Instead, citizens may one day prefer virtual currencies, since they potentially offer the same cost and convenience as cash—no settlement risks, no clearing delays, no central registration, no intermediary to check accounts and identities."
Lagarde adds:
"So in many ways, virtual currencies might just give existing currencies and monetary policy a run for their money. The best response by central bankers is to continue running effective monetary policy, while being open to fresh ideas and new demands, as economies evolve."
Cryptocurrencies Are 'Unlikely' to Weaken the Fed
At a time when Lagarde believes digital currencies will give banks a run for their money, the U.S. Federal Reserve chief doesn't think they will weaken its influence on the U.S. economy.
Speaking at a fintech event, Patrick Harker, the president of the Federal Reserve Bank of Philadelphia, said that bitcoin has yet to be tested by a serious issue that will see its price drop.
Additionally, when one does take place, people are more likely to turn to a government-backed currency, Harker claims.
He said:
"The paper that's in your pocket, that we call money, only has value because we believe it has value, because we believe the government stands behind it. It's all trust issues."
He added:
"And so, when cryptocurrencies and other forms of currency emerge, I think the basis of that has to be how do they create that trust?"
Despite the growth of the digital currency market, Harker appears unconcerned. So much so, that he doesn't believe that it will weaken the Fed's influence on the U.S. economy.
China Crackdowns on Domestic Exchanges
Both of these comments come at a time when the crypto market is experiencing a renewed surge in price. Bitcoin's price in particular has rebounded since September.
On the 2nd September, its price was trading over the $5,000 mark for the first time. However, a few days later Chinese authorities announced they would be banning initial coin offerings (ICOs). This was shortly followed by a crackdown on domestic digital currency exchanges. As a result, the value of bitcoin fell to below the $3,000 mark on the 15th September, to $2,987.
As traders weighed China's decision many sold their coins during a massive selloff. It wasn't just bitcoin that was impacted; cryptocurrencies across the board saw their values drop in some way as a result.
Consequently, several prominent Chinese digital currency exchanges revealed that they would be closing their services. ViaBTC was the first domestic exchange to do so. However, questions remain as to whether the exchange will relaunch its operations overseas in light of Beijing's ban.
BTCC is the latest digital currency exchange to cease operations, with its suspension taking place on the 30th September. On the 27th September, the exchange had stopped accepting deposits. In a tweet, BTCC claimed to have had the longest known lifespan of a digital currency exchange, having operated for '2,305 days.'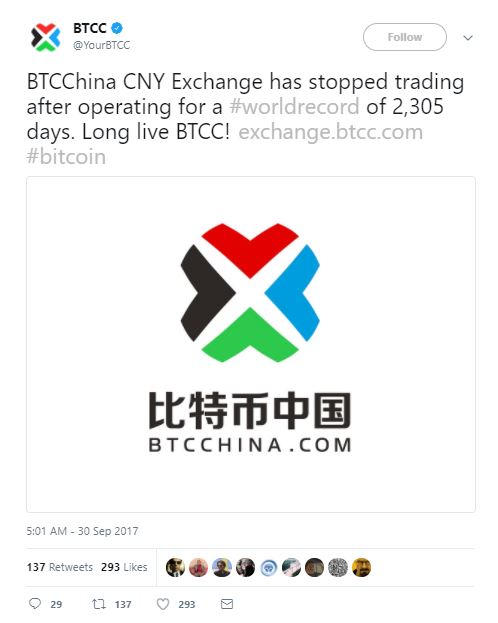 BTCC have said that they will continue operating their services outside of China. Additionally, the exchange has confirmed that its mining pool will operate normally. Yunbi, OKCoin and Huobi are expected to cease the operations at the end of October.
'More than Just a Fad'
Interestingly, while most bank CEOs are staying away from the crypto market, not all think the same.
At a time, when Jamie Dimon, JPMorgan Chase CEO, called bitcoin 'a fraud,' Morgan Stanley's CEO has come out in favour of it.
Shortly after Dimon made his comments, James Gorman, CEO of Morgan Stanley, is taking a measured view of the cryptocurrency.
At the end of September, he said that bitcoin is 'certainly something more than just a fad.'
Speaking at an event held by the Wall Street Journal, he explained:
"The concept of anonymous currency is a very interesting concept – interesting for the privacy protections it gives people, interesting because what it says to the central banking system about controlling that."
While Gorman said he hasn't invested in the crypto market, these comments will no doubt be refreshing to hear.
He added:
"It's obviously highly speculative but it's not something that's inherently bad. It's a natural consequence of the whole blockchain technology."
Bitcoin's Value Increases
Despite September being a terrible month for the cryptocurrency market, it has rebounded in price.
At the time of publishing, on the 2nd October, bitcoin's value has risen to $4,405, a 2.43 percent rise in 24 hours. In seven days it has increased by 13.83 percent. Its market value is currently worth $73.1 billion.
The combined crypto market is now worth $148.9 billion. This is still below its $180 billion record; however, the market is steadily recovering.
Featured image from Flickr via World Economic Forum.